Our Very First Fundraiser!
Support the reproduction and protection of Bluebirds and their nesting environments!
When you donate to our cause, you'll receive a complimentary item with it!
$5: Receive Eastern Bluebird Nest Box Guide
$10: Receive Eastern Bluebird Nest Box Guide + 11×17 inch Bluebird Poster
$15: Receive Eastern Bluebird Nest Box Guide + 11×17 inch Bluebird Poster + Backyards Birds and Blossoms Coloring Book
We use Paypal to accept your generous donations; or, you can choose Offline if you'd prefer to donate via check. You'll be able to select to donate by credit or debit card, if you don't have a Paypal account. Thank you!
Eastern Bluebird Nest Box Guide
Written by Wings of Love, Our Eastern Bluebird Next Box Guide is a short, invaluable PDF guide chalked full of information all about bluebird next boxes. This guide provides you with all the information you'll need to successfully make, place, and care for nesting boxes to maximize bluebird usage potential:
Discusses nesting habits of Mountain, Eastern, Western Bluebirds
Annual Nesting Cycles and Nesting Schedule broken down by month
Types of acceptable nesting boxes
When, where, how to make and place nesting boxes
Where to hang or not to hang nesting boxes
Ideal dimensions, spacing, and door (hole) size for nesting boxes
How, where to situate nesting boxes and how to face them
Proper placement to maximize comfort, protection, food convenience
Extra, special considerations when making, placing nesting boxes
How to monitor, maintain nesting boxes
Tips about Winter Roost Boxes and managing house sparrow interference

11×17 inch Bluebird Poster
This beautiful poster features a collage of bluebirds on nest boxes, in the snow, on flower stems, picking berries, and socializing. We will mail you the poster printed on recycled paper.
Backyard Birds and Blossoms Coloring Book
Coloring enthusiasts, bird lovers, and flower gardeners will all delight in our biggest and most exciting 10.8′ x 9.9′ new coloring book, set at home where the majority of America's 100 million birders and flower gardeners live and interact with nature every day—Backyard Birds and Blossoms.
Featuring 88 pages of glorious backyard birds with flowering annuals, perennials, trees, shrubs, and vines, each coloring page is intricately designed with scientific accuracy to create real and true connections with nature at home. As a BONUS feature, we've included a 30″ landscape poster that can be removed and colored for a wonderful extended experience. And, this is our first coloring book to include our FREE downloadable BIRD QR app to tap, listen, and learn.
Backyard Birds and Blossoms is the third adult coloring title from leading bird authority, the Cornell Lab of Ornithology, and this one dives deeper into what birders love as they enjoy their own personal "great outdoors" at home. For this special coloring book, we've assembled an "A-team" of contributors-Dr. Emma Ileana Greig, the Cornell Lab's Director of renowned "citizen science" platform, Project FeederWatch; Stacy Tornio, former editor of Birds & Blooms Magazine and author of Bird Brainiacs; and Brenda Lyons, who brought us America's Favorite Birds.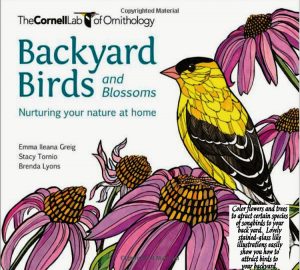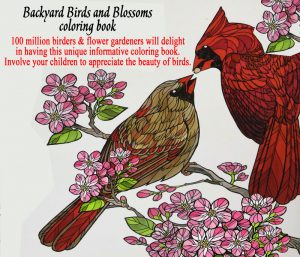 Donation Amount