Please Join Us
Come experience the beauty and talent of some of the most exquisite creatures in the world at one of our free bird shows! These are the perfect event ideas for group outings, families and individuals alike! Also great for something education and fun for grandchildren or friends.
So, when you need event ideas to please a crowd and entertain hearts both young and old, pop in and see a cockatoo roller-skate, an owl swoop overhead or a break dancing lory at one of the events below!
Our 501(c)3 not-for-profit corporation was established years ago to benefit more networking within the community.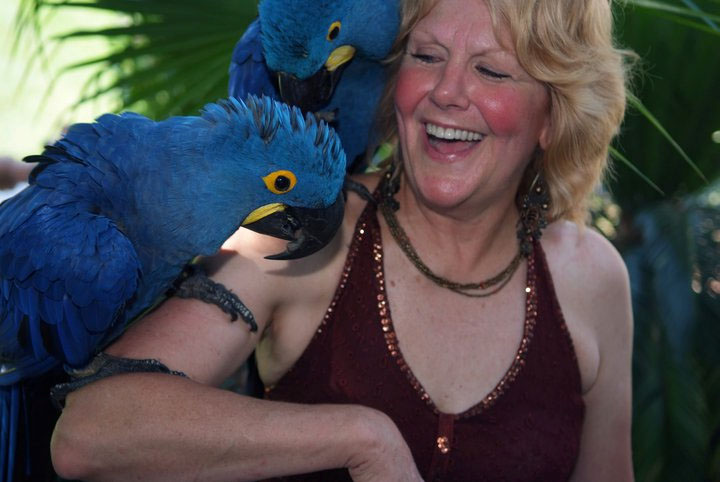 Rare Jewels of the Rainforest with Awesome Birds Features!
September 8 @ 12:00 pm - 5:00 pm CDT
Free
Beak 'n Wings is a state licensed shelter for relinquished birds. They are the only licensed  avian rescue in the State of Kansas.
The club has taken in 1,848 birds needing new homes. All birds taken in are fostered in homes of volunteer club members and rehabilitated if needed.
This group of wonderful bird people are fun loving and love their birds. They serve a very important role helping birds of all sizes.
Come join us for an afternoon of laughter, fun and educational 'bird stuff' that combines features from both our Rare Jewels of the Rainforests and Awesome Birds events!
Rare Jewels of the Rainforests
Rare Jewels is our endangered species program. This has our best birds in it – including a hyacinth macaw (the largest of all parrot species), an Eurasian eagle-owl (the largest type of owl in the world), and a toco toucan (you guessed it – the largest specie of toucan) and several other rare parrots.
Did you know that the hyacinth macaw's cobalt-blue feathers turn an emerald green when wet? That is because they really aren't blue! Whaaaat? Come to the program to find out more. Why does a toucan have such a long beak? Can an owl turn it's head all the way around? Can birds really talk or sing? Come to the Leavenworth Public Library to learn more. It's FREE.
Rare Jewels of the Rainforests includes these birds:
Hyacinth macaw, either a blue-throated macaw OR a shamrock macaw, a Moluccan cockatoo (or other specie of endangered cockatoo), parrotlet or dove, Amazon parrot(s), one of the medium-sized parrots (ex: African grey, rose-breasted cockatoo, etc.), and of course the largest type of owl in the world, the Eurasian eagle-owl.
Awesome Birds
Awesome Birds is the Midwest's ONLY performing bird show 'Awesome Birds'! If you haven't seen this, you MUST come – it will show you just how intelligent these birds are. They have learned how to roller skate, ride a bicycle, play basketball, raise the American flag, drive a vehicle, bowl, spell words and much more.
Do you believe that parrots can talk or sing? Did you know a hyacinth macaw's cobalt blue feathers turn green when they take a shower? That tells us their feathers really are not blue. Learn more about this at the FREE bird show.
Don't think bird shows are just for kids either! We guarantee 60-100 year old kids will love these shows and be AMAZED at their avian antics!