Please Join Us
Come experience the beauty and talent of some of the most exquisite creatures in the world at one of our free bird shows! These are the perfect event ideas for group outings, families and individuals alike! Also great for something education and fun for grandchildren or friends.
So, when you need event ideas to please a crowd and entertain hearts both young and old, pop in and see a cockatoo roller-skate, an owl swoop overhead or a break dancing lory at one of the events below!
Our 501(c)3 not-for-profit corporation was established years ago to benefit more networking within the community.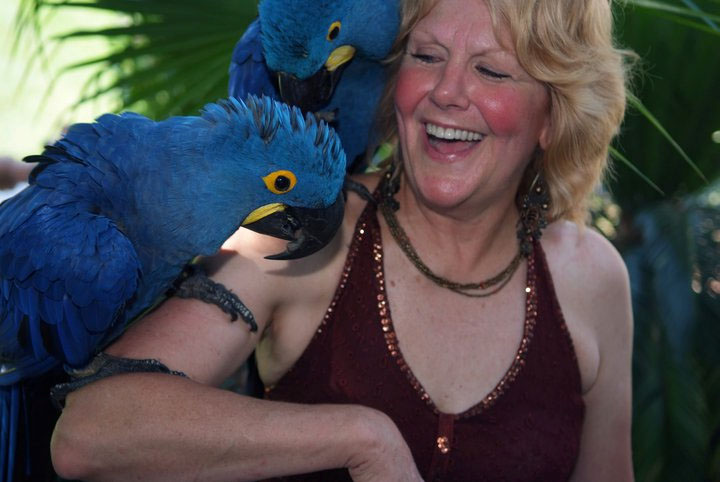 Rare Jewels + LeRoy Homecoming
September 7 @ 11:00 am - 5:00 pm CDT
Free
LeRoy Homecoming has been happening for 64 years!
Great music, Antique Car Show, Parade, Homecoming Hustle (running) road race, Craft Fair at City Park, Carnival, Ice Cream Social, Greased Pig Contest, Horseshoe Pitch, Turtle Race, and Wings of Love!
Rare Jewels of the Rainforests
Rare Jewels This has our best birds in it – including a hyacinth macaw (the largest of all parrot species), an Eurasian eagle-owl (the largest type of owl in the world), and a toco toucan (you guessed it – the largest specie of toucan) and several other rare parrots.
Did you know that the hyacinth macaw's cobalt-blue feathers turn an emerald green when wet? That is because they really aren't blue! Whaaaat? Come to the program to find out more. Why does a toucan have such a long beak? Can an owl turn it's head all the way around? Can birds really talk or sing? Come to the Leavenworth Public Library to learn more. It's FREE.
Rare Jewels of the Rainforests includes these birds:
Hyacinth macaw, either a blue-throated macaw OR a shamrock macaw, a Moluccan cockatoo (or other specie of endangered cockatoo), parrotlet or dove, Amazon parrot(s), one of the medium-sized parrots (ex: African grey, rose-breasted cockatoo, etc.), and of course the largest type of owl in the world, the Eurasian eagle-owl.