Our non-profit organization would not exist without the help of our dedicated volunteers. Every little bit helps, and we thank you from the bottom of our hearts and the tips of our tails.
How To Become a Sponsor - Your Donation is 100% Tax Deductible
In order to provide educational entertainment for terminally ill children, special needs, inner-city school, the elderly, or to present a Christian program to your church, we need your help. The birds food, housing, care, veterinary needs, travel expenses & other operating costs are very expensive. Your tax deductible donation toward sponsoring a program could make hundreds of children or adults happy. Any donation helps us continue providing wholesome entertainment to scouts, schools, churches and community events. Donations also help feed the birds, provide medical care, housing, and transportation to educate through these beautiful birds.
All donations are 100% tax deductible and a receipt will be provided via PayPal for your records.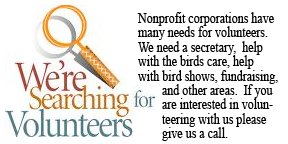 Mission Statement: "For avian education; religious instruction; prevent cruelty to pet birds; teach responsibility and care of owning pet birds; and to educate the significance of trees to sustain life for wildlife and humans".

---