QUESTIONS TO ASK BEFORE BUYING A PARROT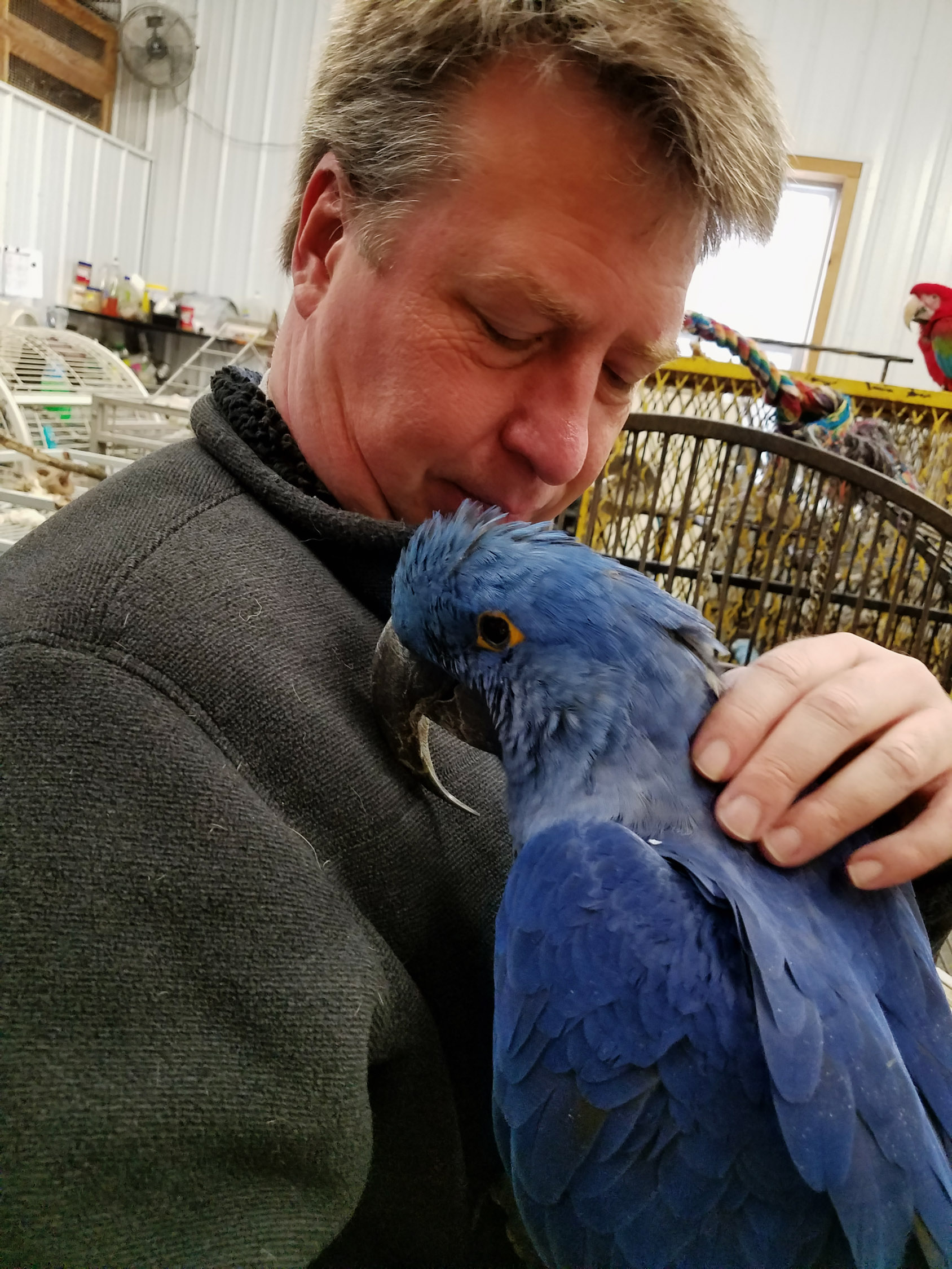 PARROTS CAN LIVE 80 YEARS?
Medium sized parrots can live 60 years or longer and the larger cockatoos and macaws
around 80 years or longer. How long will you live?
WHAT DO THEY EAT?
Basically anything you eat except avocados and chocolate. Daily they should fresh
vegetables and fruits, avian pellets (these contain amino acids and proteins birds need),
and on occasion – not every day – some parrot seed mix and mixed nuts, depending on
the species. Some parrots, like rose-breasted cockatoos and Amazon parrots are prone to
obesity in captivity, so seeds and nuts should be kept to a minimum to avoid fatty tumors.
DO THEY POOP ALL OVER THE HOUSE?
Birds can easily be potty-trained. Notice how many minutes between 'poops'. When you
think it's time, take the bird to its cage, over a trash can, and give a verbal cue like "Go
potty". When it potties reward it verbally and with lots of love and praise. This comes in
very handy if you take your bird on outings with you in the car.
HOW CLEAN DO WE HAVE TO KEEP ITS CAGE?
The cleaner the better. We clean our birds' cages daily. Fecal matter should always be
removed from bars or perches, as parrots climb all over their cage. Be certain food bowls
are not underneath perches or where the birds' tail will be. We have found that
Yesterday's News is nice to use in the bottoms of cages; it keeps odors down and they
don't chew it up like newspaper (you should make certain they don't go down and chew
on it – birds are different).
WHAT TEMPERATURES DOES IT NEED? WILL THE A/C BE TOO COLD?
Parrots can be acclimated to cooler temperatures. You're A/C should be fine as long as
it's not blowing directly on the bird. Same goes with the heating in the winter. No drafts
should ever blow on a bird, nor should they be too close to a window.
We lived in California and all our birds were outdoors in barns. There were mornings
their water froze – but California's 20° is like Missouri's 40° with our humidity. That
being said, you could not place your bird outdoors in California when it's going to be 20°
if it's lived indoors, and they should always have protection from drafts.
Temperature fluctuations are difficult on us humans. Equatorial species are used to
temperatures not changing 15° in a years' time.
I SMOKE! AND DON'T WANT TO QUIT.
Smoking is the leading cause of preventable death and harms nearly every organ of the
body. It's a double whammy for birds. Birds have air sacs that go throughout their body.
When they breathe IN, the smoke goes through the upper air sacs. When they breathe
OUT, the smoke goes through the lower air sacs.
We have a lovely cockatoo we took in who has the equivalent of COPD. She breathes
very heavily and this will certainly reduce her lifespan.
CAN WE PLACE THE CAGE IN A CORNER OR DOES IT NEED SUNSHINE?
Nearly everything needs the sun to survive. Some birds like African grays, suffer from
lack of calcium, which if they had more sunshine (D 3 ) in their lives, would help them
tremendously. Not to mention how the sun makes us feel happier.
Keep in mind, a birds' body temperature is 106° so if they are in a lot of sun with no
shady area to move to, it can be very detrimental.
DO ALL VETERINARIANS SEE PARROTS? DO THEY GET SHOTS?
No! Birds are very different from mammals. Get to know an Avian Veterinarian (contact
the Association of Avian Veterinarians) to find the nearest one. This way, your vet has
something to compare your birds' health if/when it does become ill.
Parrots don't need vaccines. There are a few on the market, but mostly for the poultry
industry.
WILL A PARROT RUIN OUR FURNITURE?
We believe that parrots should be inside their cages while unsupervised. Just like with a
child, they need to be taught right from wrong. Just raising your voice or sound upset
with your bird is all you need to do. We feel much of what goes wrong in bird-companion
relationships is misunderstanding what the other desires. If it starts to chew on furniture,
a simple 'No no' with your finger going like a windshield wiper, will teach it not to chew
on future. Parrots should always have unsprayed branches in their cage, to swipe their
beaks on for cleaning, and to keep their beaks in shape. Find out what type of branches
are in your area, and safe to use. Otherwise, their need to chew may be taken out on
molding around windows, etc.
HOW DO WE GET THE BIRD TO BOND TO US?
When you get your bird home, leave it in its cage for a few days so it can acclimate to its
new surroundings, get used to family members, other pets, etc. Obviously if you have
predator animals (dogs, cats, ferrets) these should always be monitored while the bird is
out. Gently and calmly speak to the bird as you pass by; offer it a piece of bread or
whatever you are eating through the cage. Hold the bread, for example, outside the cage.
The bird will reach through the bars with its beak. You can then move the bread closer to
the bird. At this time the bird is focused on the bread and not your fingers. Always
reward with praise.
After a few days have passed, open the cage door and let the bird come out on its own.
The following days, after picking it up and carrying it around, you can work on getting it
to come out of the cage on your hand. Remember the bird is frightened. It is in a new
place around new people with new rules. Not much different than a foster child. Think
how frightened the bird must be, and always try to comfort it. YOU look like a giant
compared to it. It is more frightened of you. Try to overcome your fear and trust in the
bird. Your comfortableness will go a long way.